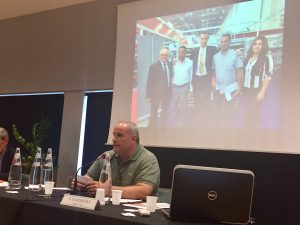 The
Arab-Italian Chamber of Commerce
and
International Rout srl
have organized with
University of Macerata
an important seminar, called "Businnes opportunities for Marche Region industries in Algeria and Egypt).
Mr Stefano Cardinali
, Chief operating officer
OMAZ
, was invited to speak about the experience of our company in Meddle Eastern markets.
The other speakers were: Mr Galal M. El Sawy (Minister of Egypt Embassy in Italy), Mr Francesco Nissardi (consultant of Arab-Italian Chamber of Commerce), Mr Fabrizio Luciani (International Route srl), Miss Elena Bozza (Venturini Srl), Mr Erik Longo (University of Macerata), Mr Gianluca Pesarini (President of Confindustria Macerata) and Mr Mario Mancini (President of Arab-Italian Chamber of Commerce).